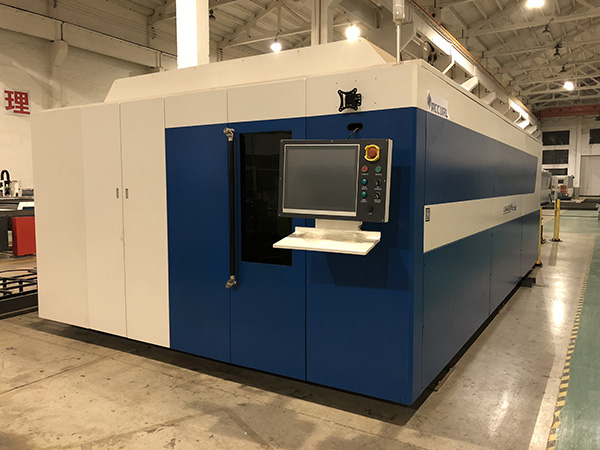 Product Info
---
We manufacture 500W, 700W, 1000W, 2000W, 3000W, 40000W and 6000W Sheet Metal Laser Cutting Machine Price and the complete machine has TWO Years Warranty. 3015, 4015, 4020, 6020, 8020, 9020 Table are all available or it is the Open Type Single Table or Double Auto Exchangeble Table. You can choose whether with protective cover or not and get your own Customized Requirements. Besides, Round or Square Tube Cutting are also available.
---
Laser Generator

IPG/Raycus (CHINA)

Stroomvoorziening

3-phase AC380v±10%/50Hz

Laser uitgangsvermogen

facultatief

Positioning Acuurancy

±0.05mm/all length

Bruto vermogen

16KW/hour

Type of Light Path

Fixed Optical Light

Snijsnelheid

0-13.8m/min

Graphic Files Format Supported

DXF,CDR,PLT, BMP,AI and so on.

Repetitive Position Accuracy

± 0,03 mm

Controlling System

Imported Numerical CNC system with reliability and multifunction
Fiber Laser Power

500w

700w

1000w

Werkgebied

3000mmx1500mm

3000mmx1500mm

3000mmx1500mm

Carbon Steel Cutting Thickness

up to 6mm

up to 8mm

up to 12mm

Stainless Steel Cutting Thickness

up to 4mm

up to 5mm

up to 6mm
Why choose our cutting equipment?
---
1. We are cutting equipment MANUFACTURER, so we can offer better price and after-sale service and shorter delivery date.
2. We have strong design & technical capacity, we can design and manufacture as per the customer's requirement.
3. Our main products (Including Portable/Gantry/Table/ Fiber Laser CNC Cutting Machine) are approved CE CCC certificate.
4. We have successfully exported to Europe, USA, Middle East, Southeast Asia and so on . We all get good feedback.
5. We provide a FREE TWO YEAR WARRANTY for all our items.
Laser Cutting Machine-Cutting Sample
---
Vezellasersnijmachine has been widely used in manufacture billboard, sheet metal structure, high-low voltage electric cabinet, textile machinery, kitchenware, metal artware, etc;processing material like Stainless steel,carbon steel,mild steel,alloy steel,spring steel,copper,brass,aluminiumsheet,gold,silver,titanium sheet and pipe.
snelle details
---
Toepassing: lasersnijden
conditie: nieuw
Lasertype: vezellaser
Toepasselijk materiaal: metaal
Cutting Thickness: depend on Materials
Snijgebied: 3000 mm * 1500 mm
Cutting Speed: 0-13800mm/min, 0-13.8m/min
CNC of niet: Ja
Koelmodus: waterkoeling
Control Software: Imported Numerical System with
Graphic Format Supported: AI, DST, DWG, DXF, DXP, LAS, PLT, Other
Certification: CE, GS, SGS, FDA
Service na verkoop: Ingenieurs beschikbaar voor het onderhoud van machines in het buitenland
repetitve position accurancy: +/- 0.03mm
Laser output power: 500W
Gross Power: 16KW/hour
Power Supply: 3-phase AC380v±10%/50Hz
Graphic Files Format Supported: DXF,CDR,PLT, BMP,AI and so on.
lasersnijmachine producten