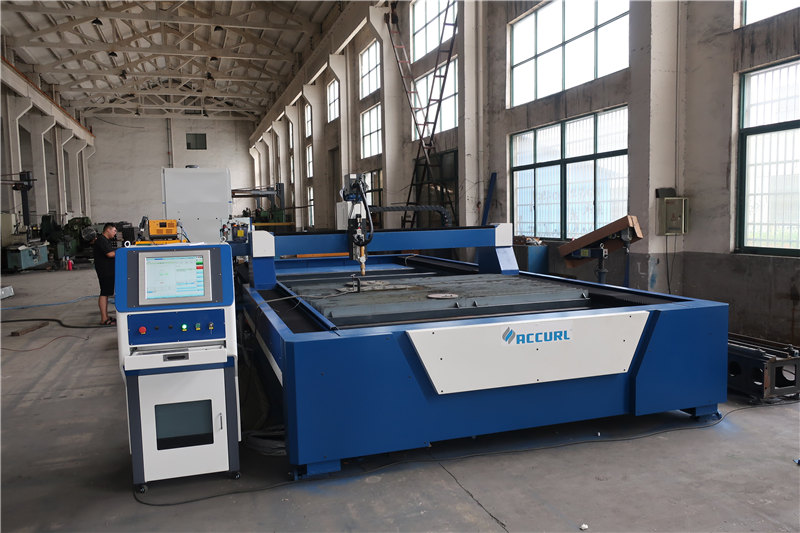 Cutting method Guide
---
1,Flame cutting: Suitable for cutting carbon steel larger than 20mm;
2,Plasma cutting:Plasma cutting cost is 1/3~1/2 of flame cutting;So the plasma is suitable for cutting carbon steel within 20mm;
3,Stainless steel, aluminum or galvanized sheet etc materials suitable for plasma cutting.
Productomschrijving
---
Snijmodus

Driving Mode

Servo motor or stepper motor , Dual-side

Cross beam Width(m)

3m or 3.5m

effective Working Width(m)

 1m less than track width

Guide rail Length (m)

According to your cutting demands

effective working length (m)

2m less than guide rail length

Flame Cutting thickness(mm)

 5-200 (specific type up to 300)

Plasma Cutting thickness(mm)

According to the plasma generator, common 1-30mm

Number of Cutting Torch

At customers' requests

Snijsnelheid (mm / min)

50-8800

Loopsnelheid (mm / min)

12000

NC-controller

LANSUN or other China or import System you want

Plasmamacht

100A ,120A , 200A ,300A ect .  China , USA brand

Programmeersoftware

China or Australia professional nesting software

Operatie taal

English or Chinese or Russian
Detailed description
---
Machine body structure
1.Steel hollow beam design ensures good heat dissipation without deformation;
2. Box weldment structure process tempering ensures excellent rigidity and intensity;
3. Double drive adopts symmetrical structure.
transmissie
1. The gear-rack driving motions without engagement gap ensure the machine running smooth at high speed;
2. Gear box: SEW, high output torsion low noise.
Drive Model
Japan AC servo motor or Stepper motor Bi-side Driving.
GIDSSPOOR
Process mode: High precision grinder;
Longitudinal rack accuracy: 7 grade;
HEIGHT CONTROLLER
Multiple cutting torches can be configured. Both flame and plasma torches are optional to meet the needs of cutting different materials in a range of thickness.
Flame:Electric height adjusting system.
Plasma:Arc voltage height controller.
CNC-systeem
1. 10.4 inch LCD display;
2. USB port support, figures display;
3. Indicator lights showing working condition;
4. Operation menu displayed instantly on monitor;
5. Easy figures programmed directly.
Beijing or Shanghai or American Brand CNC system is oPtional
snelle details
---
conditie: nieuw
Plaats van herkomst: Anhui, China (vasteland)
Merknaam: ACCURL
Voltage: Machine 220V, plasma 380V
Rated Power: 500W/800W/1000W
Dimension(L*W*H): 3*6
Weight: 1500KG
Certification: CE & ISO
Warranty: 12 months
Service na verkoop: Ingenieurs beschikbaar voor het onderhoud van machines in het buitenland
name: cnc cutting machine
cutting mode: plasma/flame cutting machine
Drive motor: China stepper motor or Japan servo motor
gas or plasma torch number: single , or multihead
Plasma generator /plasma source: CHINA famous brand HUAYUAN LGK series , or USA brand
Machine voltage: 220V/380V/415V /440V ,can be customize
cutting gas: oxygen/oxyfuel +Propane acetylene ; press air
THC sensor: Automatic or Mechanical
procesing material: stainless , ion , cooper , mild /high carbon steel ,galvanized sheet
Option: Straight cutting torch , bevel cutting
---
mini cnc plasmasnijmachine